Early Years Virtual Tour
360 Degree Virtual Tour
View our Virtual Tour  of the purpose built Kindergarten and Playgroup.
Floor-to-ceiling windows allow natural light to stream in. Spacious undefined areas employ the imagination, develop creativity and encourage meaningful play. A kitchen in each of the rooms brings a homely feel to the holistic environment; whilst the child-friendly architecture is complimented by the natural play props – from silk veils, wooden kitchen, Waldorf dolls, cooking utensils and open-ended playthings.
Enclosed gardens within the protected Conservation Area of Merchiston
A walk around the enclosed gardens of the Early Years, set in the heart of our whole-school campus that stretches over three acres within a protected Conservation Area of Edinburgh. Take in climbing trees, a bonfire area, composting, vegetable plots, woodwork benches, bird feeders, sandpits, swings, water play areas, composting, vegetable plots, woodwork benches, bird feeders, hidden den areas and places for the children to create their own natural playground. Wildlife are in abundance.
Edinburgh Steiner Film
Watch our short film (2012) on the Early Years. 2020 film – postponed.
Media & Technology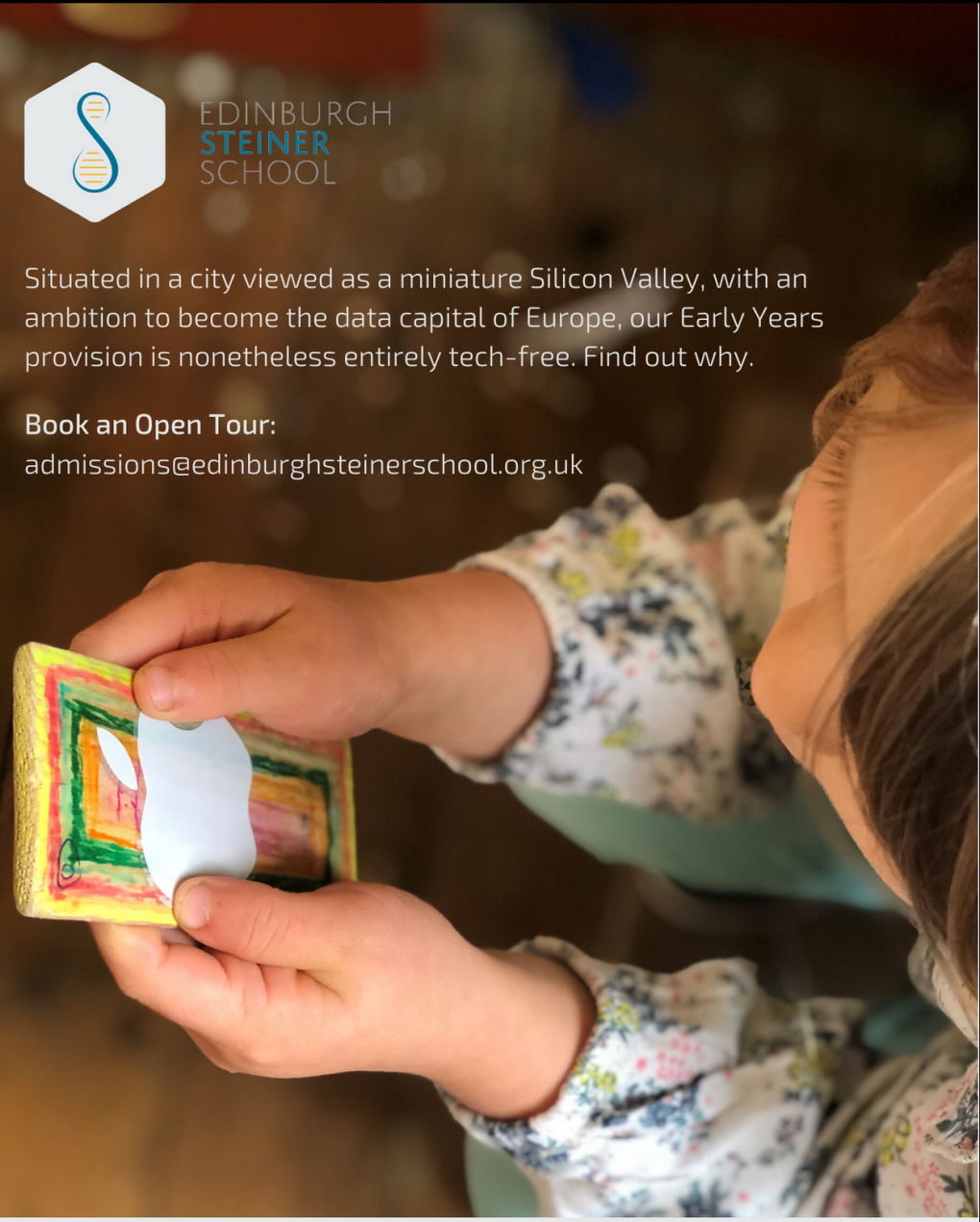 About three quarters of the parent body at sister Steiner school Waldorf School of the Peninsula in the USA's innovative tech hub Silicon Valley work in the sector in some way, including high-level techpreneurs at Amazon, Ebay, Yahoo and Apple. They, like parents at Edinburgh Steiner School, are choosing a screen-free, broad, education for their children.
Learn why we offer an entirely screen-free environment for our younger pupils and the Steiner Waldorf philosophy to media and technology in later years by clicking here.
Testimonials and photo gallery
View reviews from parents and more visuals glimpses into the first years of an educational career at Edinburgh Steiner School on our social media pages, updated regularly:
Campaigning for Kindergarten: Upstart Scotland and Give Them Time
Further resources
Time To Play is a beautifully made documentary about early childhood by award-winning filmmaker Kim Hunter. The 45 minutes long film features a Steiner Waldorf kindergarten, providing an insightful look at our Early Years approach.
Articles of interest:
Purposeful, Passive, Playthings Join V&A Museum of Childhood (February 4th, 2020)
Holistic Approach To Maths Adds Up (January 20th, 2020)