« View all news
Edinburgh Steiner School Commended For Conservation in Curriculum
April 29 2020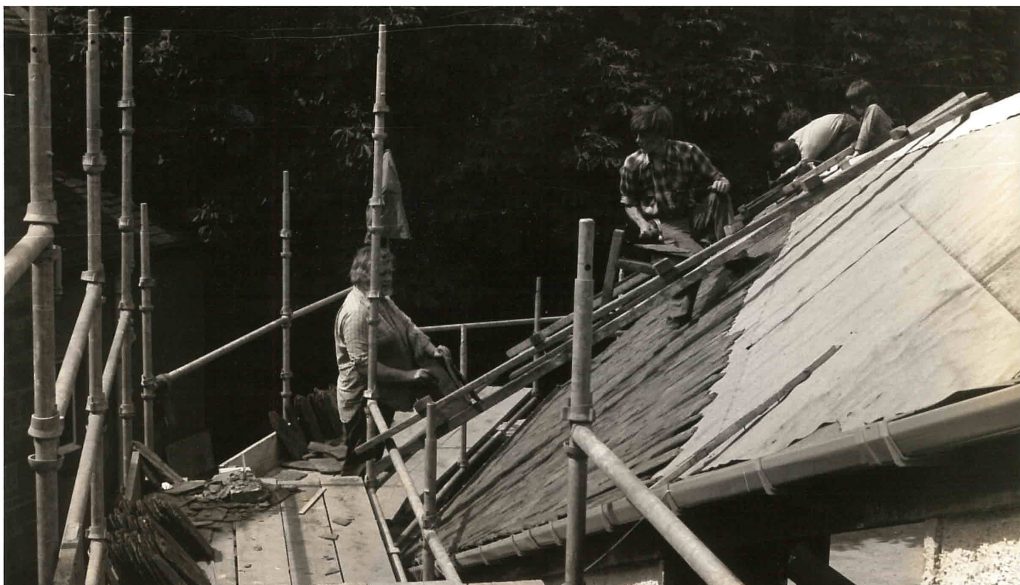 The approaches with which our education is imparted to pupils is being given the spotlight as teachers chart a virtual way forward for delivering our holistic, trans-disciplinary, broad education in the Summer Term, as the UK is in Covid-19 lockdown. Whilst we are unable to fully replicate school at home, this obligatory reduction in services during Covid-19 lockdown is also a time celebrate our education; and this week this comes in the form of a commendation from District Conservation Architect, Peter Ranson:
I am impressed to see a school where pupils are getting hands on experience of the lime process, how to make limestone mortars, and their importance in sustainable conservation of our built heritage," Ranson reflects. "I am not aware of another school incorporating the knowledge and traditional skills required for the conservation, repair and maintenance of the historic built environment into their curriculum."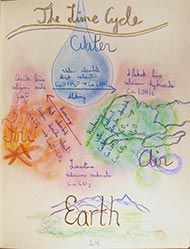 Peter Ranson has worked in the public sector for more than twenty years in the areas of cultural heritage, restoration, sustainability and comprehensive planning. He recently visited our campus as part of the Doors Open initiative, where architect Benjamin Tindall's talk and workshop focused on sustainable construction. The annual architectural event in September encourages people to discover some of Edinburgh's most unique and interesting buildings which are normally closed to the public.
Enthused by the pupil participation approach to conserving the School's 19th Century C-listed coach house, it led to a wider discussion on advancing education in architectural conservation with acting Chair of College, Nick Brett – which carries out the pedagogical leadership of the School. Peter is particularly encouraged by the tradition within Steiner schools of pupils building a lime kiln as part of their chemistry lesson.
In Waldorf Schools a primitive kiln is typically built during the Chemistry Main Lesson in Class 7 (See Crafting Chemistry: The Lime Cycle). It is a stark sign of these unprecedented times that palpable features of the Main Lessons such as this, which would otherwise be taking place during this Summer Term, will for the first time in decades not be experienced by the pupils, being so at odds with the current social distancing guidelines. This project, for example, involves multiple pupils weaving cane into a chimney with their hands, then heading to the hills to collect clay to make a lime kiln, using the traditional wattle and daub building method.
Wattle and daub has been used for at least 6,000 years and is still an important construction method in many parts of the world. Many historic buildings include wattle and daub construction, and the technique is becoming popular again in more developed areas as a low-impact sustainable building technique. The use of lime-based mortars are also  becoming increasing important in building conservation, as their environmental credentials are far higher than cement, as they actually absorb C02 from the atmosphere, whereas cement gives off more than it absorbs. The Steiner Waldorf curriculum aims to give a developmental and adaptive picture to children and young people, based on clear observation and open-ended questions.
In this way, pupils follow some of the key steps taken during the history of the physical sciences, and can learn and appreciate the intricacies and the power of practical applications of the subject' The Tasks and Content of the Steiner Waldorf Curriculum (p48).
We are a rare example of a school which emphasises sustainability and the belief in self reliance. The 12-13 year olds would – in normal circumstances – build on this experience of making a lime kiln further, returning to campus to begin the process of making a pizza oven that then slowly dries over the summer holidays before then being put to work to clay-bake organic pizzas, which the pupils sell to Kindergarten families at lunchtime  to fund-raise for their Class 8 foreign exchange at the end of the academic year. See Crafting Chemistry: The Lime Cycle to view this process in photographs from last year. (The cancellation of this year's Class 8 exchange is yet another casualty of the Covid-19 pandemic).
Practical applications of subject disciplines, with a strong environmental and socially conscious focus,  are evident throughout the Steiner curriculum. We aspire to develop responsible, creative and freethinking young people, who will contribute to society and a sustainable environment with vision and purpose. Our educational gardens sit within three acres of protected conservation area of Edinburgh. It including an award-winning biodynamic flowform built by pupils and teachers, creating an outdoor laboratory conserving rainwater that irrigates the willow used in the craft curriculum; the pupils' timetabled gardening lessons involve tending to vegetable plots and a greenhouse that provide ingredients for school lunches; and the Edinholme Wildlife Border, professionally designed by parent Carolyn Grohmann, was planted and is maintained by pupils and teachers. This continues on into the Upper School, at a time when most young people become specialised as a result of their exam choices. They are able to do so because of the Main Lesson programme.
The Main Lesson programme means pupils at Edinburgh Steiner School continue to study a broad spectrum of arts, sciences, crafts and humanities in addition to their national exam subjects, including the study of Ancient, Medieval and Modern History; Philosophy; Organic Chemistry; History of Art; Economic Geography; Surveying; Physics; History of Architecture; and Geology. Artistic and practical subjects also continue to be timetabled for all pupils. To enable the broad curriculum of Main Lesson content to continue, exams are taken a year later than in mainstream. As a result, irrespective of whether pupils veer towards the arts or the sciences in their exam choices, they continue to receive a valuable grounding across all subjects, cultivated following principles of sustainable practices. This was demonstrated strongly in the School's most recent example of Waldorf architecture.
Children leave their mark on schools, from scribbles on desks to testing the resilience of furniture.  Yet when it came to preserving a C-listed dilapidated building, converting it into curriculum space, the building itself was employed as an educational tool. Not only does the Architecture Main Lesson, delivered in Class 12, incorporate elements of Growing Spaces – the School's long-term campus development strategy, we invited the contributions of those who would then use the building, namely Classes 9 – 12 pupils, to be part of project.
All Upper School pupils were actively involved in the design and build, which earned an Honourable Mention by the international MasterPrize Architecture. This is most noticeable in the colourful cladding, coat hooks and door knobs, as well as the beautifully inscribed stair.  Steiner's 'Curriculum of Colour', boldly integrated, adds much distinctiveness to the extension. Site safety regulations and procedures have changed significantly over forty years since the above black and white photograph, showing pupils and parents slating the roof our school hall in 1979, was taken. In 2019, viewing windows were set up to so as the whole school could immerse in the conservation process, with pupils both young and old watching as the Scotch roof was stripped and insulated with modern-day materials, as the slates were individually re-cut to shape with hand tools and up-cycled to create the newly laid roof; and the school community followed the process online through news, photographs and video clips posted on our Growing Spaces social media page.


Ranson applauds Edinburgh Steiner School's interpretation of child-friendly architecture in the newest example of a Waldorf educational space, which makes visible the workings of the building – such as traditional exposed pipework, the cast iron railings that will change colour over time as it comes into contact with pupils hands, and where the building itself is used as an educational tool.
Historic Environment Scotland, where Ranson has worked for 23 years, supports schools in delivering Curriculum for Excellence in areas of Social Studies, Travel and Tourism, Technologies and more through hands-on activities. However, historic preservation programmes are not typically part of the mainstream Scottish curriculum.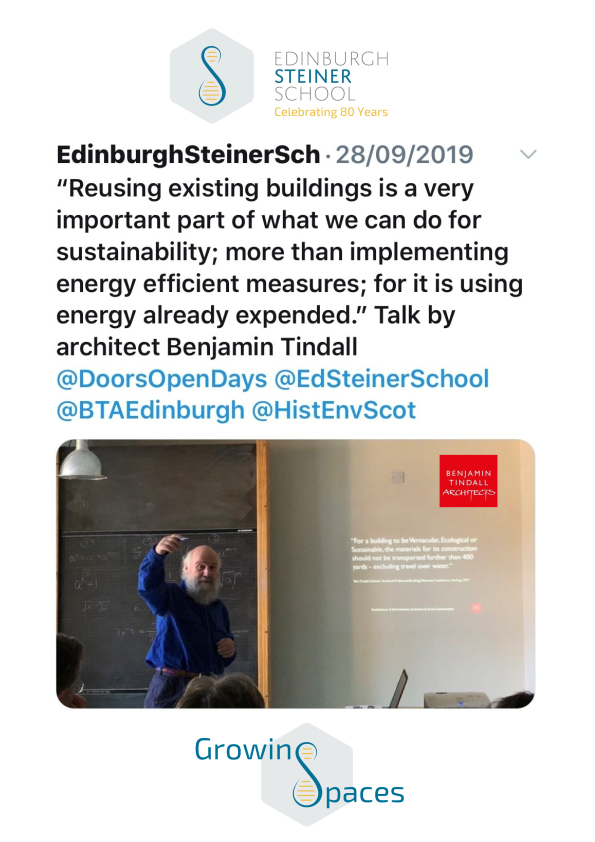 Our Growing Spaces Project will improve the condition of the main buildings so as to lower our carbon footprint, add new sustainable classroom spaces and redesign the green areas for a 21st Century education.